This Is Not Ordinary but Extraordinary
Sticking to the classic and ordinary isn't always the best choice. Sometimes we need a touch of the unique and extraordinary in our lives, and a perfect way to get that is through curtains! New curtains can completely elevate the mood and style of your house interior, so we're here to help you find something special.
One of our biggest recommendations for home styling is art deco curtains, which will give your interior an artistic flair. These are characterised by their patterns that are reminiscent of early 20th century styles. If you're curious about how an art deco interior design can create an extraordinary look in your home, keep reading on!
Make your room pop with geometric patterns
Art deco curtains come in a variety of designs, but one of their most common characteristics is bright geometric patterns. This is because of the influence of Cubism on the development of this style, which was a highly popular movement for a reason! All the colours and shapes blend together to create an artistic and striking look, which are fantastic for more neutral interiors that need a splash of colour.
Voila Voile always has a wide range of colours to pick from, so you can choose the best one that suits your home. Try yellow tones if you want a cheerful mood and modern aesthetic, or maybe you can go for green to bring the natural outdoors inside your home.
Create a classy vibe with chevron
Whilst chevron might seem simple, it's actually a great pattern for creating a luxurious atmosphere. If you want to experience those old Roaring Twenties days with lavish parties filled with extravagance, have a look at some classy chevron curtains in an art deco style! These sophisticated curtains will make the space the perfect place for both relaxing and socialising in - whether that's your own living room or a fancy dining hall.
As fabric always plays a big role in style, we recommend getting your chevron curtains in jacquard. This way, you're sure to create the most elegant look possible - one that will impress any expert interior designer.
Add an exotic touch from around the world
If you want a style that is less common around your area, why not find something inspired by other cultures? Art deco particularly draws upon styles from Oriental cultures, bringing in beautiful patterns from there to add a special touch. This is a great way to spice things up if your interior style seems a little too flat and ordinary.
Our curtains with ginkgo leaves and Oriental fan patterns are perfect for bringing in that Eastern Asian influence to elevate your interior style. If you want to give your home an exquisite atmosphere, have a look at these curtains now!
Wave some magic to make your interior shine
To create a truly extraordinary interior design, you need some shimmer and shine! Find some curtains that have a golden or silver shimmer in the fabric, which will make your space look fit for royalty. The metallic detailings are just enough to add a little glamour and will demonstrate your careful attention to detail.
As a wide range of our art deco curtains include some golden or silver shimmers, you have a great selection to pick from! Whether it's gold or silver, a romantic sparkle will fill any interior with charm and luxury.
Transform your home into something extraordinary now!
Now it's up to you to find the perfect curtains for your home. With a wide range of patterns and colours that will give any interior a unique personality, Voila Voile is the go-to place for that special something. Browse through our selection of art deco curtains and make your home look extraordinary today!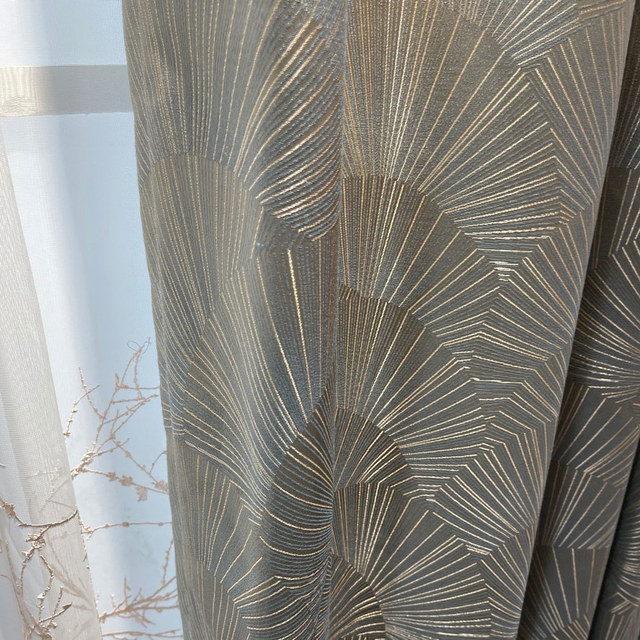 Ginkgo Leaves Luxury Art Deco Patterned Champagne Grey Gold Curtain