How Can You Hang Sheer Floral Curtains in Different Ways?
Planning to upgrade the décor and furniture of your home?
If yes, then we definitely recommend using graceful sheer floral curtains to decorate your windows. Sheer curtains are a wonderful way of enhancing your place without removing the original room's style, whether you're feeling creative, experimental, or just want to update your house. There are plentiful advantages of sheer curtains, which are the reason for their appeal. They're light, versatile, and easy to handle, install, wash, and customise.
Today in this article, we have a list of 7 ways in which you can hang sheer curtains.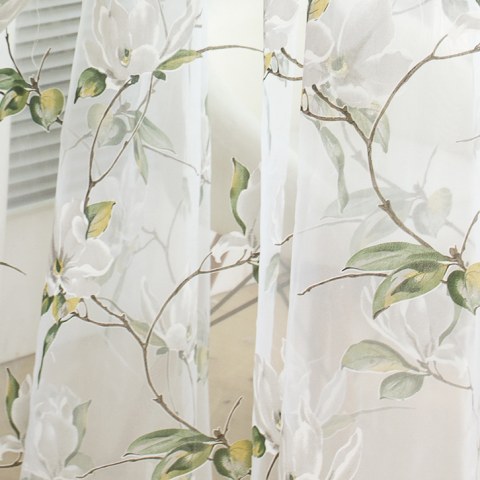 Sheer Curtain Ivory Morning Flower Voile Curtain
7 Different Ways To Hang Sheer Curtains
Make sure you're familiar with sheer curtain fabrics before you begin. Sheer floral curtains come in a variety of fabrics, including silk, chiffon and cotton. You should choose a fabric that complements the style of your home. Cotton fabrics are generally more suited to basic, simple interiors, whilst silk fabrics are suited to more opulent furnishings or décor.
Next, double-check that you have the appropriate curtain hardware on hand. As sheer curtains are light, you can choose between thinner curtain rods and thicker curtain rods. Absolutely make sure that the rods you choose are appropriate for the room's aesthetic as well as your drape requirements. In a chic and bright sitting room, a massive, clunky wooden curtain rod would look out of place.
Sheer Curtain Love Fantasy White Leaf Voile Curtain
Layer It With Thick Curtains
Pairing sheer floral curtains with thicker blackout curtains or drapes is a popular way to hang them. Layering your voile curtains with thicker curtains provides insulation, more privacy and a more appealing look to your windows. There are endless curtains that you can pick from, but if you are planning to use sheer floral curtains, then be sure to use thick, solid curtains. This will make the floral designs of your sheer curtains pop out.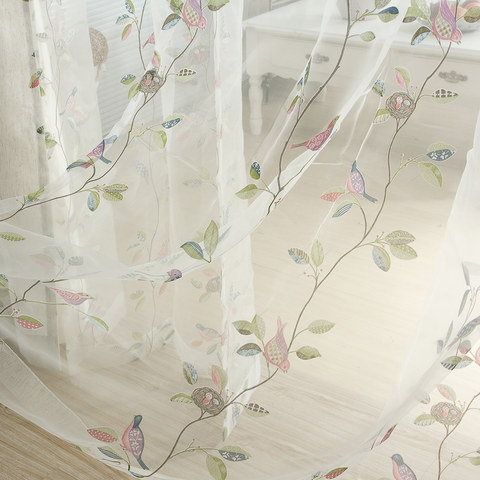 Sheer Curtain Misty Meadow Floral And Bird Cream Voile Curtain
Add Depth and Colour by Hanging Multiple Sheer Curtains
Since sheer curtains are thin and flexible, you can layer many sheer curtains to create a gorgeous setting that suits you. You can create a dreamlike, elegant ambiance and maintain your privacy simply by hanging different sheer panels next to each other.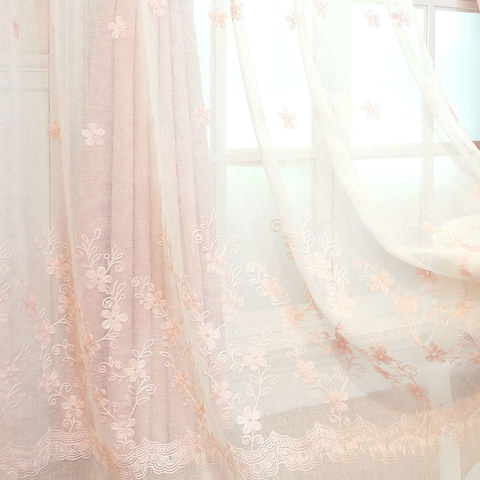 Sheer Curtain Touch Of Grace Embroidered Blush Pink Flower Voile Curtain
Illuminate Your Windows with String Lights
Use this easy decoration tip throughout the holidays or whenever you have visitors. To achieve this magical look, you'll need a double curtain rod attachment. String lights can be hung on the curtain rod closest to the window. Then, on the other pole, hang your sheer floral curtains, and you're done.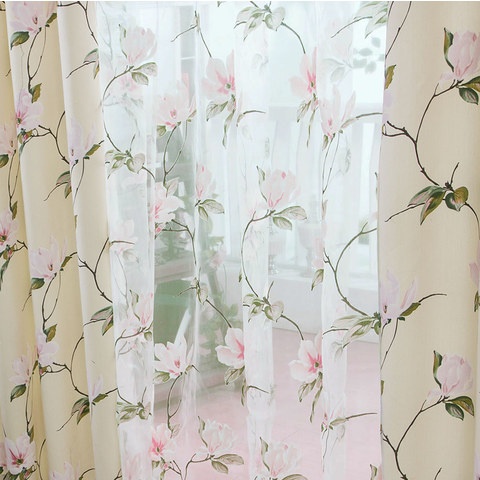 Sheer Curtain Pink Morning Flower Voile Curtain
Make a Scarf for the Window
It's easy to be deceived by appearances! Although this method seems complicated, it is simple to put together. Drape sheer fabric over a curtain rod and let it drop down in front to make a window scarf. Arrange the curtain fabric at multiple angles or use two different colours to add more vibrance to your windows and change the style. Please remember that because this method does not completely cover your windows, it provides limited privacy.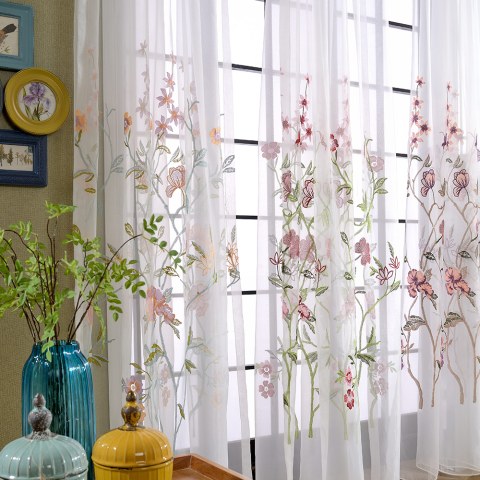 Sheer Curtain Fragrance Green Branch Embroidered Voile Curtain
Frame a Centerpiece Using Sheer Curtains
Do you have a beautiful flower, elegant centerpiece, or special object you'd like to display? Consider using sheer floral curtains to frame the sides of your window and turn your windowsill into a practical yet stylish storage place. Standard curtains or drapes can be used, but sheer curtains will attract more attention to the items you wish to highlight. You'll also need the right tiebacks to pull the curtains back and finish the look of your windows.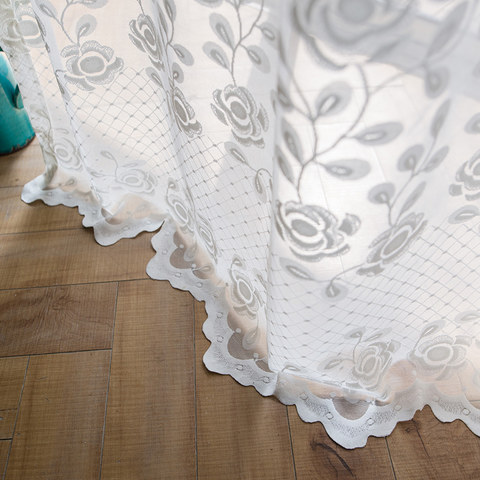 Net Curtain Sweet Smell White Roses Premium Lace Voile Curtain
If your balcony doors, closet doors, or doorless entrances don't provide enough warmth or look too plain, try using sheer curtains as decoration. Curtain tiebacks are recommended so that the panels can be drawn back whenever you want to open the doors or let in more light.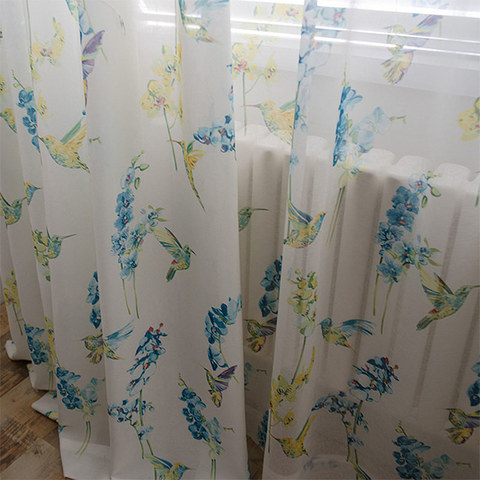 Sheer Curtain Hummingbird Blue Floral Voile Curtain
Transform Your Bedroom with Sheer Floral Curtains
You can effortlessly brighten up your bedroom with sheer floral curtains if you have taller ceilings or a four-poster bed. Hang a thin curtain as a bed canopy, or use it as a backdrop behind your bed to transform your bedroom into a beautiful and cosy hideaway.
Buttercup Gold Embroidered Sheer Voile Curtains
Are You Ready to Implement these Tips?
All set to make use of your new sheer floral curtains from Voila Voile, or feeling inspired to buy some now?
You can forget about the difficulty that comes with standard curtain installation using hardware that may damage your walls. Without the use of hooks, nails, or hammers, we help you hang your curtains in the best way possible. Simply position the brackets with your window trim, pound or mallet them in place, and hang your curtains.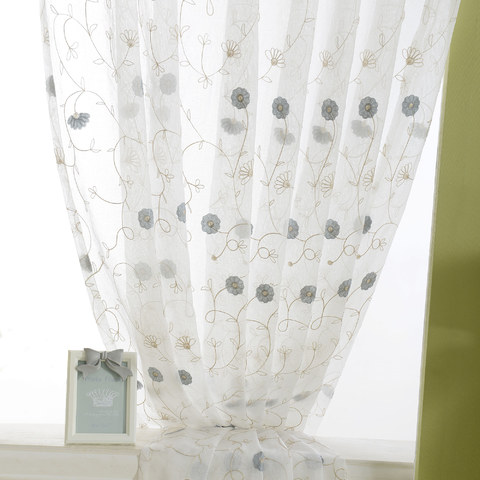 Floral Affairs Grey Blue Flower Embroidered Sheer Voile Curtain