A Beginner's Guide To Buy A Rod Pocket Sheer Curtain
A Beginner's Guide To Buy A Rod Pocket Sheer Curtain
Pocket Size - Circumference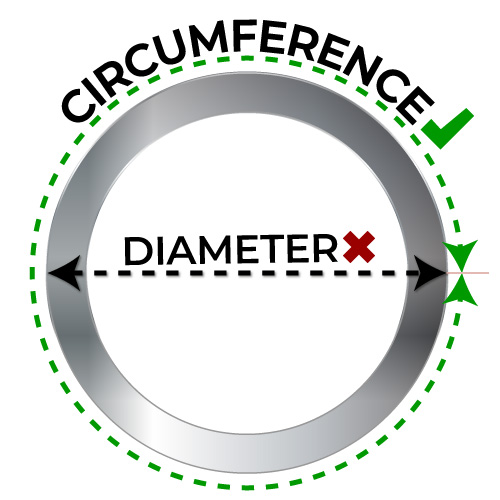 The above illustration shows the circumference in green and the diameter in black.
● The circumference of a circle is the distance around the curtain rod/rail/wire. Please add ½" to the overall measurement.
● e.g. If the circumference of the rod is 4" , we would recommend 4½" circumference for your rod pocket circumference.
● If your circumference of the rod is not listed on the ordering page, please leave a message when you check out: "The correct circumference is ..."
Curtain Width
● Enter the curtain rod/pole/wire width
● Select single/pair, fullness.
● The finished curtain width will be calculated automatically.
Curtain Drop

● Measure from the top of the curtain pole/rod/wire to the window sill or the floor.
● The curtains should finish ¾" above the window sill or the floor.
| | | |
| --- | --- | --- |
| | | |
| 1.5X Gather | 2.5X Gather | 3X Gather |
Selecting Your Fullness / Gather
● We always recommend that you choose 2.5x gather as it creates a more luxurious and high-quality look.
● However, if you prefer a more minimalistic style, you may wish to choose 1.5X gather.
● If you need a curtain for a sash window or door, please contact us at info@voilavoile.com for a quote.
How to order 1.0x flat rod pocket curtain
Fullness
(Gather)

Enter rod width

Example
Your rod width: 40"


1.0x

Your rod width ÷ 1.5

Enter rod width: 26"

Select 1.5X Gather heading

Finished curtain width: 40"

With no visible rods and rails, the rod pocket sheer curtains create a glamorous effect and bring in natural light and colours. There are no certain rules. We will help you to achieve what you desire. Small change, big impact! Create the home you've always wanted with Voila Voile.