Sheer Drapes - Functional Way To Welcome Daylight
For years, the majority of households have had sheer drapes folded away in a cardboard box, hidden away in a cupboard or discarded in the loft – so can you imagine the vogue when Voila Voile produced a modern take on sheer drapes to bring this style back to life?
One of the standout reasons these drapes are most prominently used is their ability to disperse sunlight into the home while providing much-needed privacy. Along with bringing a decorative element into a house, these are certainly functional furnishings too. Due to their semi-transparent properties, they can make your space appear bright, fresh and airy. Sheer drapes can also be paired with a heavier curtain, to bring functionality day and night. We are here to show you why these sheer drapes are the best solution for your home!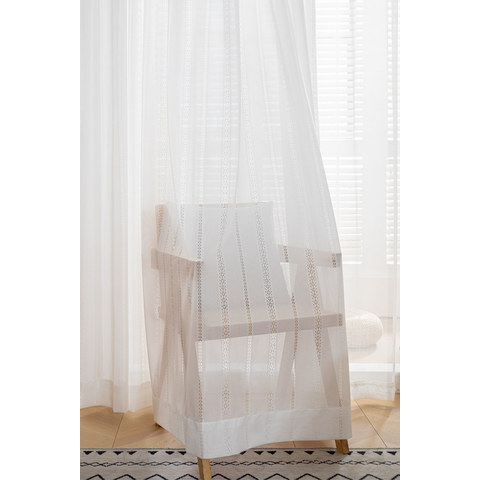 Welcome Natural Light into your Home
Sheer curtains are a delicate, translucent, and lightweight material that work as an excellent screen over your windows. These properties allow sunlight into your home whilst the fabric of choice functions as a light diffuser, softening the direct sunlight that filters in. The two most notable advantages of this are:
You can allow light into your home without compromising on privacy.

As a bonus, they can provide some protection for your home's furniture, fittings, and flooring by shielding them from the maximum intensity of direct UV rays.

Help Keep your Privacy Intact
One advantage of sheer curtains is that they provide an additional layer of privacy. Although they do not block sunlight from entering your home, they do provide a clouded layer against outside observation. Sheers can be used to increase the level of privacy available in a layered window solution, giving you more alternatives for when you want to be more private. During the day, this allows you to pull back your thicker curtains to reveal sheers which welcome daylight whilst warding off the nosy neighbours!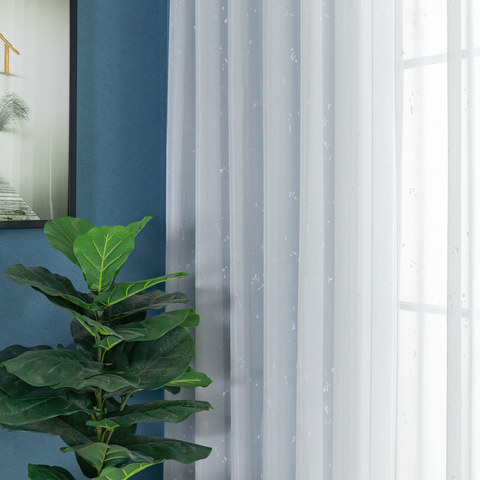 Constellation Sprinkled White Clusters Sheer Curtain
Create Flow Between Indoors and Outdoors
Sheers look stunning when they are lengthy and free-flowing, spilling over the window pane. The fresh appeal they bring to the space is a result of their soft, luxurious appearance. The sheer properties still allow you to enjoy the views of the outdoors and to create a flow between the two spaces. When used on bifold or patio doors, sheer curtains can create a bridge between your home and outdoor space. The translucent material does not hinder the view of whats out your window, but allows privacy and harmony.
If you prefer to be more secluded, consider doubling your sheer drapes or combining them with curtains and drapes to reap the benefits of both. Sheers are typically white, but you can choose from a wide range of colours and patterns at Voila Voile to cater for any taste and style.
Master the Illusion of a Larger Space
Wave folded sheer curtains, also known as s fold sheer curtains, are a common and elegant form of sheer drape. With these drapes, a specialized track and tape arrangement creates the illusion of a continuous waveform from one end of the window to another. When compared to a flat appearance, the wave fold gives a room dimension and spark creating a spacious appearance. In addition to being simple to operate, it can provide the appearance of ample space as the thin track, light fabric, and flowy texture is the perfect recipe to brighten and enlarge a room.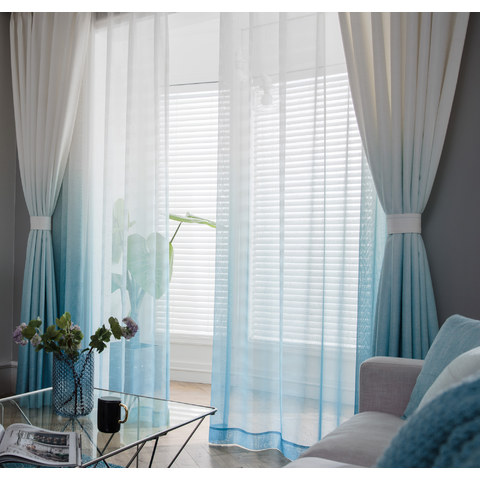 Perfect Blend Ombre Turquoise Blue Sheers with Matching Curtains
Amazing Combinations with Layering
It is possible to provide a high degree of control over brightness and security levels by combining sheer curtains with blackout curtains or heavier materials. When used in conjunction with sheer drapes, this layered solution provides complete nighttime seclusion while still permitting natural light to stream in through the windows during the day. This allows for a comfortable nights sleep, and a fresh atmosphere for the day. Furthermore, the additional layer of curtains doubles the benefits of insulation.
Can The Sheer Curtains Block The Ultraviolet Rays?
Sheer curtains disperse natural light and reduce glare from direct sunlight. They can assist in protecting your interior from ultraviolet rays, diminishing the likelihood of fading and sun damage to furniture, carpeting, and soft furnishings.
They also have some insulation properties, which can help to reduce the amount of heat that enters your room, which is a must have during the hot summer, while they will also assist in keeping the cold at bay throughout the winter. Consider pairing an additional layer with sheer curtains to truly protect yourself from the weather outside.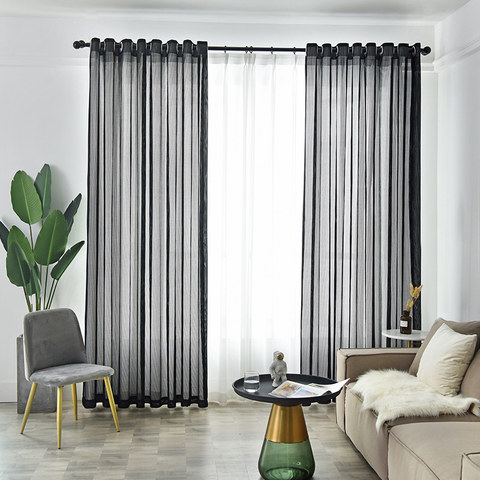 Black Hollowed Out Herringbone Sheer Curtains
Summary
Without a doubt, we can say that sheer curtains can help you get an ample amount of light inside your home with no compromise of privacy. These curtains should be your go-to if you are planning to revamp your abode.
Voila Voile has got the most diverse stunning range of sheer curtains – see for yourself!