8 Inevitable Reasons to Embrace Sheer Embroidered Curtains
It is speculated these days that sheer curtains are old fashioned, outdated and unpopular. If you agree, let us apprise you that this common misconception is worlds away from the truth.
From top-notch interior designers to every other home in a village are furnishing their homes with sheer curtains with a beautiful modern touch of embroidery. The conglomeration of colorful floral designs and transparent drapes is not only fascinating but renders a tranquil beauty for your abode.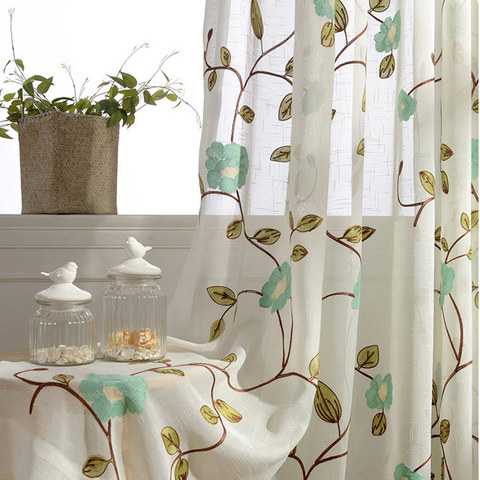 Floral Journey Sage Green Sheer Embroidered Curtain
We are aware some remain pessimistic or skeptical about new trends such as sheers brought to life with embroidery - hence, we are here with a list of reasons why sheer embroidered drapes are perfect for every home.
Reasons to Welcome Sheer Embroidered Curtains to your Home
Embroidered Sheers Are Just As Effective On Their Own.
Sheer embroidered drapes are capable of standing out on their own. Nothing can rival the aesthetic of a window wall draped in stunning sheer curtains with embroidery to create an airy, dreamy room, particularly when combined with fresh monotone walls. The intricate embroidery seen on our sheer curtains is eye catching and incorporates a work of art into the functionality of sheer curtains.
Embroidered Sheers Render Privacy
The addition of the sheer curtains will help you achieve the best of both worlds for your home. Natural light is essential in a compact room, and it should be welcomed from as many natural sources as possible. Sheers provide the flexibility of allowing daylight to filter through while also providing some privacy from the outside. The beautiful embroidery breaks up the light and allows a decorative sheen from the outside world.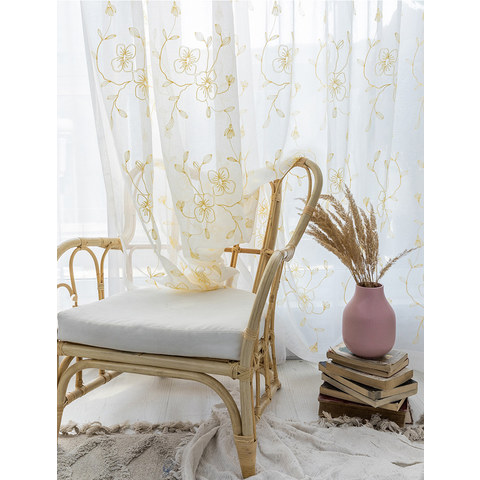 Buttercup Gold Embroidered Sheer Curtain
Embroidered Sheers Add A Sophisticated Flair
Sheer drapes often appear their finest when they're lengthy and effortlessly elegant, and they can also work well spilling past the bottom of a window, particularly in a space with touches of rustic appeal. If you doubt the length, always go long rather than short, even if it means leaving the fabric to gather on the ground a little – this can have a luxurious appearance. Pick a simple material with shiny details for a traditional glam appearance and pair it with a sparkling mirror or metallic elements in your interior to tie it all together.
Embroidered Sheers Are Not Restricted To Windows
Sheers can define space in a variety of settings, not just the windows in your home. When used in patio space, sheer curtains can provide the illusion of being in an outdoor room while also softening the rough edge of a home's exterior for a breezy lounge vibe. For practicality, ensure to stick to organic neutral tones to avoid fading in outdoor spaces. Similarly, sheers can be used throughout the home to break up rooms instead of doors and create make shift dressing room spaces. This amplifies the flow in your home where an open plan is not available.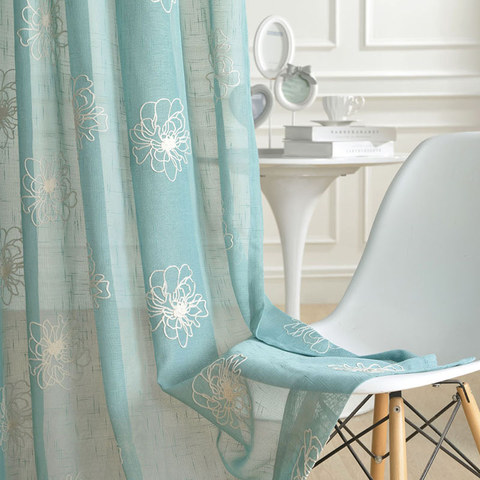 Flowers of the Four Seasons Teal Blue Embroidered Sheer Curtains
Embroidered Sheers Are An Excellent Room Dividers
Sheers are not only useful for windows. They work well as room dividers in an open-concept style. In a modern house or condo, or even in a studio apartment, you can use them to softly divide spaces while maintaining a sense of openness. They look great and can enhance your interiors.
Embroidered Sheers Can be Layered
Because they are so lightweight, sheers are ideal for layering with heavier drapes. Using heavier curtain panels to create layers in the room adds interest and depth to the space. In addition, it provides you with varying levels of privacy depending on what time of the day it is and what season it is.
Sheer drapes are undeniably one of the most cost-effective methods to spruce up your space on expenditure. These are long-lasting and fashionable and also complement both traditional and contemporary décor. In addition, it increases the overall appeal of the space. You'd be surprised at how many different patterns and colors are available.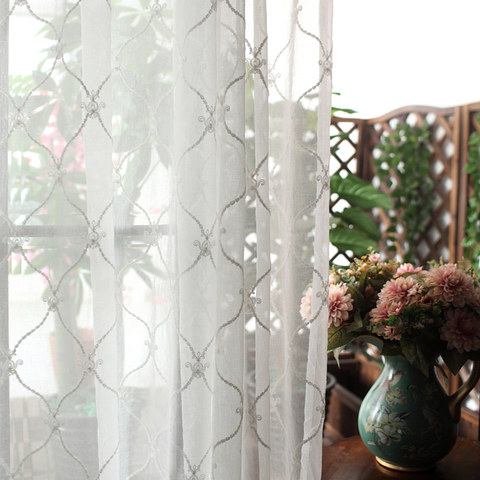 Fleur White Embroidered Sheer Curtain
Sheer drapes are no longer confined to blacks or whites, as now they are available in a wide range of styles, hues, textures, designs, and more. Furthermore, it can be used in conjunction with other blinds and drapes to enhance the aesthetic appeal of any room. They are adaptable and can be used for a variety of purposes with flair.
Final Thoughts On Embroidered Sheer Curtains
Lightweight designer sheer curtains with embroidery diffuse the light into rooms, create a feeling of flair, and enhance the decoration. They are also excellent transition pieces between indoor and outdoor living spaces. Perfect for layered solutions, the sheers work well when paired with other curtains or blinds.
Make the improvements to your home that it deserves to have. Concentrate on finding the best bargains on sheer curtains and various types of blinds by working with Voila Voile.