Curtain Ideas For Living Room Décor
All the components of a home work together to create a flow and dynamic specific to your style, however it is common to forget the impact your curtain choice has on the overall atmosphere. Curtains are the barrier between indoors and outdoors, and no matter how large or small the window is, you can make a statement with the fabric you choose. When it comes to adding aesthetics to your home, picking the right product for you is mandatory.
The living room is the forefront of the home where family and friends congregate and spare time can be spent – therefore we are adamant that you find curtains to elevate the ambience and make the room all the more inviting. Here at Voila Voile, we have a varied range of products with all the colours, designs, and fabrics you can imagine! We are here to help you decide what is best for your living room with a number of unique and stunning ideas to take your décor to another level.
The Perfect Blend Ombre Sheer Voile Curtains
Layer Curtains in the Living Room
By doubling up your living room curtain dressings you can create a functional, and equally as gorgeous, statement piece. While a blind is a great way to enhance your privacy, adding a drape on top can create a gorgeous decorative element. Don't be shy, layer curtains as well - install thick curtains over sheer curtains which is perfect as the seasons change. Using two fabrics of the same design is extremely effective, and here at Voila Voile we offer a range of collections of matching sheers and drapes just for you. Layered curtains give the room depth while also adding décor details that some only dream of!
Demure Florals Demask Jacquard Gold and Cream
Add a Luxurious Element with a Draped Floor-Length Curtain
Add two to four inches to the bottom of your curtains and watch how the whole room can change! With curtains elegantly draping across the floor, your interior can feel just that extra bit luxurious – not to mention how cosy it will feel during the colder months. This look can be achieved using both sheer and thick curtains specific to your interior tastes and will look simply gorgeous.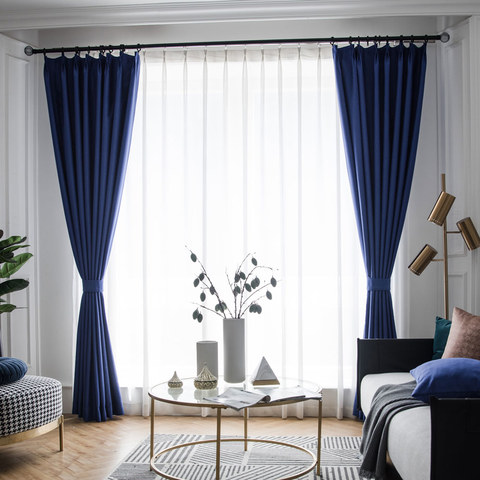 Superthick Navy Blue Blackout Curtain
Introduce Curtain Tie-Backs
Besides the obvious function of holding your curtains back, tie-backs encourage the curtains to hold their structure and avoid flattening out. They can also add that attention to detail and bring another element to the décor of your living room. At Voila Voile, we offer crescent-shaped tiebacks made in matching fabric by covering stiff cotton material known as "buckram" with a light wadding and upholstery fabric.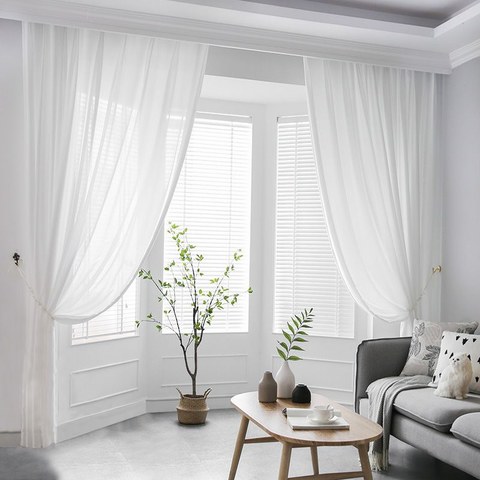 Silk Road Moonlight White Chiffon Voile
Create a Soft Look with Sheer Curtains
Sheer curtains are an excellent option for a living room where the desire is to feel minimalistic, airy, and relaxed. These fabrics allow light to diffuse in whilst providing enough seclusion throughout the day. Improve the look of your living area by selecting a light-weight fabric to filter daylight and blur activity from the outside world.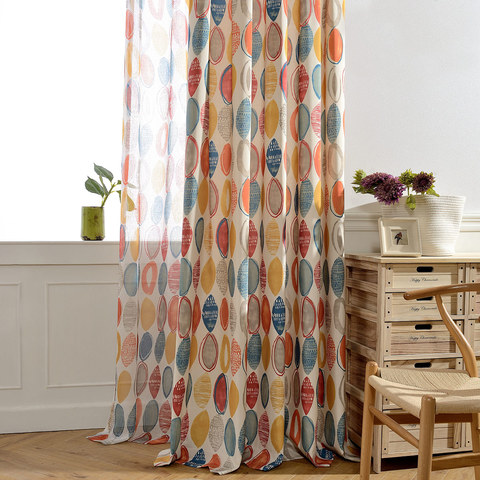 Infinity Red Modern Geometric Patterned Curtains
Pick Bold Coloured Drapes
Your living room can be defined by eye-catching drapes in a brilliant hue, which infuses the area with a dynamic vibe. Bold-colored drapes will also serve to establish a colour palette for the entire room and adding a focal point for your décor. Unique, striking designs will bring a strong presence with similar effect as a feature wall.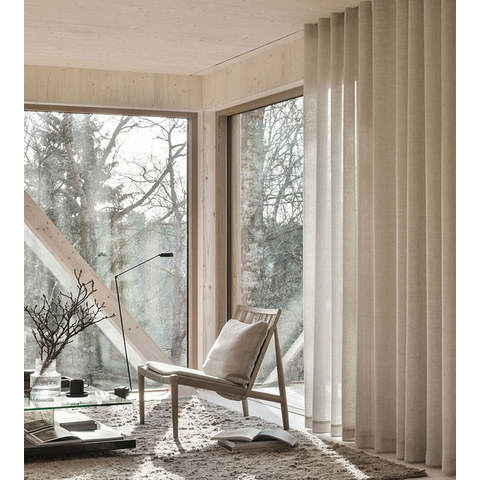 Authentic Japanese Woven Knit Cotton Blend Sheer Curtain
Choose Curtains that Blend In
If you want curtains that blend into the backdrop to allow another component to take center stage, choose something neutral and conventional – from simple white drapes, to neutral shades such as cream, or drapes which mimic the colours of the walls. Keeping things basic allows the curtains to frame and soften the lines of the windows without detracting from the rest of the room's design.
Roman Blinds Are All-Time Favourites
Roman blinds are an excellent alternative to living room curtains if you have sunken windows or there isn't enough space for curtains to fit. These types of blinds can produce a sleek aesthetic and are ideal for a small living space where it is ideal to not have anything too bulky. Roman blinds neatly open into folds and create a beautifully effective window solution. Choose from plain colours to bold patterns to make them blend in, or stand out.
Elegant Balloon Shades
For a twist to your décor, consider buying some unique yet luxurious balloon shades. These added elements create something remarkable for your home, so expect astonishment when your guests enter your place!
Voila Voile is always prepared to provide their customers with good quality and beautiful curtains. We bring you a varied range of curtains, which means that at Voila Voile, you can get all that you need. Visit us and check out what we have to offer, find the perfect curtains for you today!