Kitchen Curtain Ideas for Your Home
The kitchen is the heart of the home, where home cooked meals are made with love and where delicious foods are baked. Why not give your kitchen some TLC by brightening the space with some gorgeous kitchen curtains? Depending on your décor, there is a huge range of options when it comes to choosing the correct kitchen curtains for your home. From bold print designs to geometric patterns, here at Voila Voile you can find what you envision.
As the choices are overwhelming, we are here to help with several ideas if you're looking to add kitchen curtains to your next interior venture.
Décor Styles for Kitchen Curtains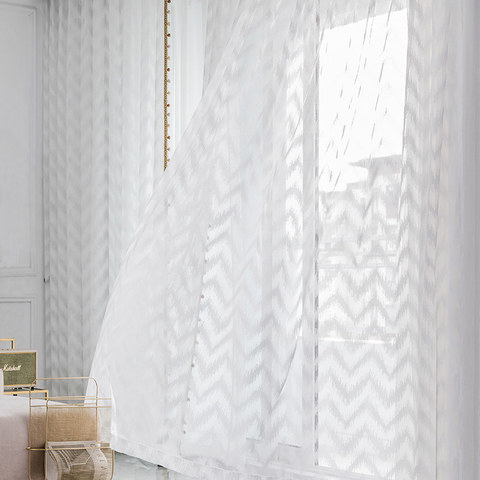 Bohemian Chic Zigzag Ivory Sheer Curtain with Bronze Tassel Detailing
Bohemian
Embrace patterned curtains in your boho kitchen, our products include a range of styles to ensure there is something for everyone. Whatever they are, whether they are roman shades, curtains, or sheers, bohemian designs can bring a sense of relaxation and an unmatched character.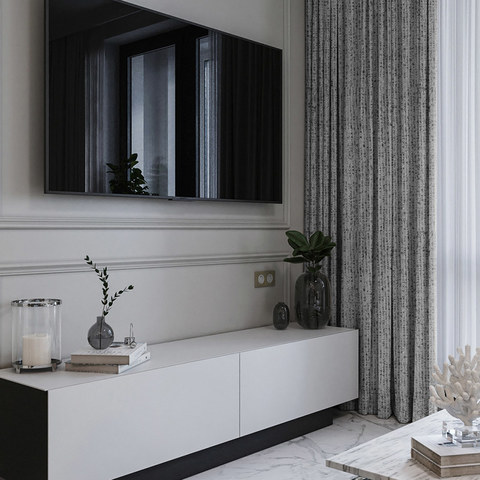 Metallic Fantasy Sparkling Shimmering Silver Grey Curtain
Modern
When designing a mid-century contemporary style kitchen, the use of a fresh color pallet including whites, greys and blacks is essential. This can be mirrored through the addition of modern style curtains using bold colors and sleek designs.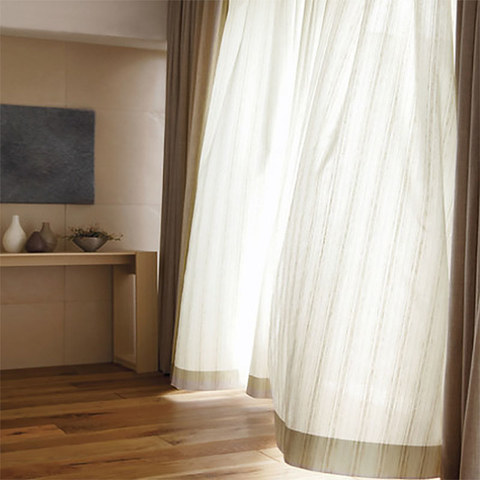 Country Escape Striped Linen Voile
Countryside
When it comes to decorating a rural kitchen with rustic elements full of character,a pair of curtains is a great way to tie in the theme. The most popular choice for countryside kitchens is neutral shades of cream and brown, however any pastel hue will look gorgeous.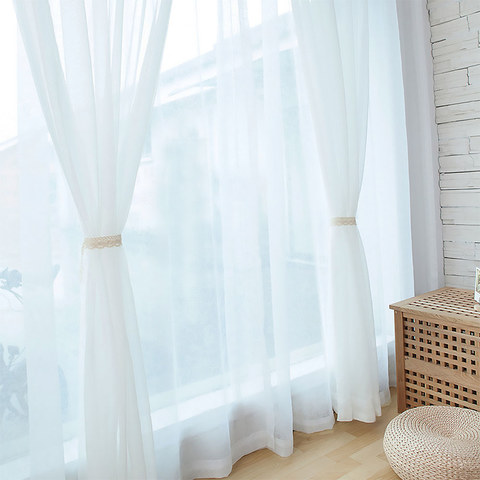 Scandinavian White Soft Cotton Voile Curtain
Nordic
Choose Scandinavian style fabrics to complement your existing wood accents and create a Nordic kitchen full of natural character. Light wooden furnishings and a neutral color way accentuates the warm and inviting atmosphere and gives your kitchen that homely feel.
Nautical
For those who prefer to have a strong theme, nautical elements can be the ideal choice. From shabby chic décor to sea-themed ornaments, a nautical theme can be followed through and through with curtains to finish the look. Up the appeal and be bold!
Industrial
A bold curtain can complement an industrial-style house where the combination of metals and dark accents create a dramatic appearance. Simplicity and functionality are the lead characteristics within an industrial décor, which can be acknowledged using solid curtains in bold hues.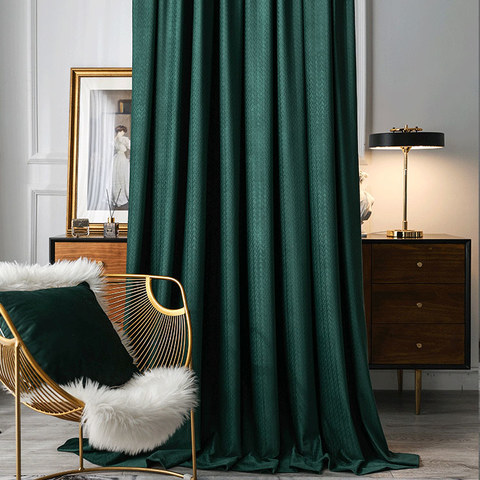 Scandinavian Basket Weave Textured Deep Forest Green Velvet Blackout Curtain
Urban
Adhere to the trendy elements using darker shades and bringthat city-feel to your home. Dark tones of grey, black, and even colors such as navy blue and deep greens can add to the urban décor within your home.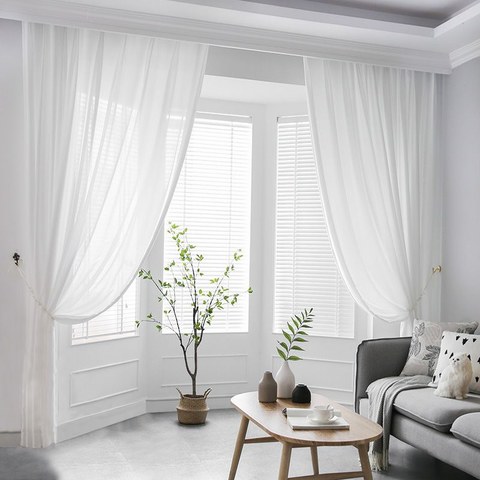 Silk Road Moonlight White Chiffon Voile Curtain
Classic
If you have a traditional kitchen with white or ivory tones and chrome accents, clean white curtains will complement the look. Whether its striped or plain curtains, Voila Voile have a range of classic style curtains to cater for those who aim for that clean and no-fuss look.
Curtain Styles that Suit the Kitchen
There are several factors to contemplate when breathing life back into your space. We have covered décor themes and will now explore the style of the curtain, including how they are hung and the characteristics of the fabric.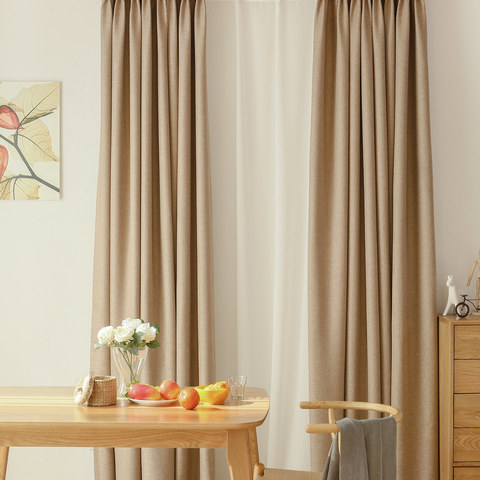 Serene Moment Beige Color Curtains
Solid Drapes
Solid colors act as a bold backgroundthat doesn't distract you from the rest of the room. Light colors can enlarge the appearance of your kitchen while giving it a brighter feel, whereas dark colors can enhance the ambience and contrast the use of light fixtures and natural light.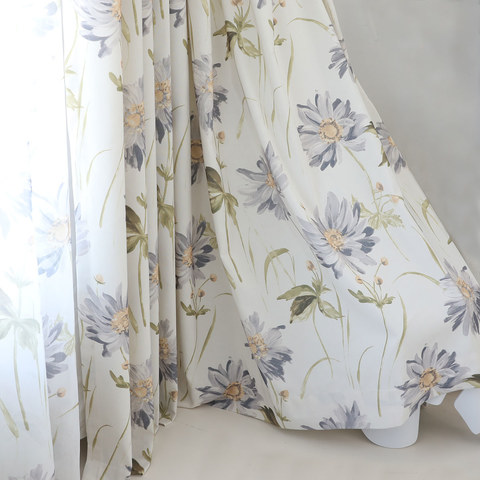 Bringing the Garden Indoors Blue Daisy Cotton Floral Jute Style Curtain
Floral Curtains
Floral designs are a popular choice for kitchen curtains and are constantly in style. For kitchen doors or windows, nature-inspired designs can bring the outdoors in to give your kitchen a fresh appeal.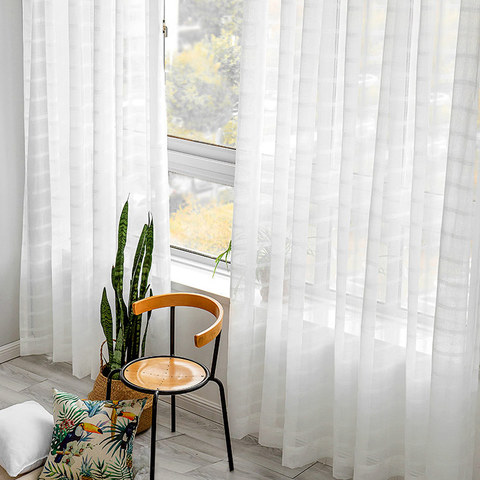 Roma Striped Grid Textured Weaves White Sheer Curtain
Sheer Drapes
Sheer curtains are translucent which so many will agree is a great choice for the kitchen. While sheer curtains disperse light, they also provide some seclusion from the outside world and make the kitchen a light and airy space. If your kitchen sits at the back of your house, this allows you to peer out into the garden whilst cooking!
Pleated Curtains
Pencil pleat, double pleat, and triple pleated curtain headings are the most popular when hanging curtains in the kitchen as they create a stunning appearance and do not protrude in the room. These can also increase the fullness of a curtain to your taste which works well with sheer curtains.
Basketweave Texture Velvet Curtain Collection
Well, there you have it! What more do you need to begin your search for the perfect curtains to revamp your kitchen? Visit Voila Voile today to find the perfect curtains for you.