8 Golden Ideas: The Need to Know About Hanging Drapes and Curtains
Curtains are the final touch used to tie an interior together. These soft furnishings are an excellent piece of home décor that are a must-have when it comes to accessorizing and redecorating. A space can seem incomplete without curtains or drapes and in complementing their visual merits, curtains also provide several functional advantages including privacy, accentuating the beautiful view, filtering daylight, and providing insulation among other factors.
It's also worth noting that a well-designed complete space can require more than just purchasing ready-made products. Made to measure curtains fit your homes exact requirements, while also adding a personal touch as they are made as per your specifications, including unique requests. There are a few basic rules and know-hows when it comes to buying your very own custom curtains, so read on to find out more.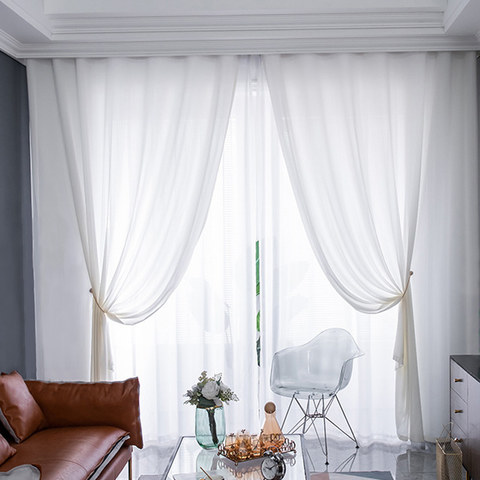 Sundance Textured Striped White Sheer Curtain
Welcome Light into Your Space
Having blackout curtains in every room in your home is not necessary. These block out the light and darken your space, and while this is ideal for private rooms such as the bedroom, it is not the best choice for the rest of your home. In rooms such as the lounge, opt for light and airy fabrics that allow the sun to shine through which will instantly brighten and enlarge the room. For this function, sheer linen fabrics are an excellent choice.
Heavy materials such as velvet are great for privacy—so why not combine the two! Overlay a sheer fabric with a thick curtain to optimize the furnishing by allowing you the choice of sheers during the day, and complete privacy during the evening.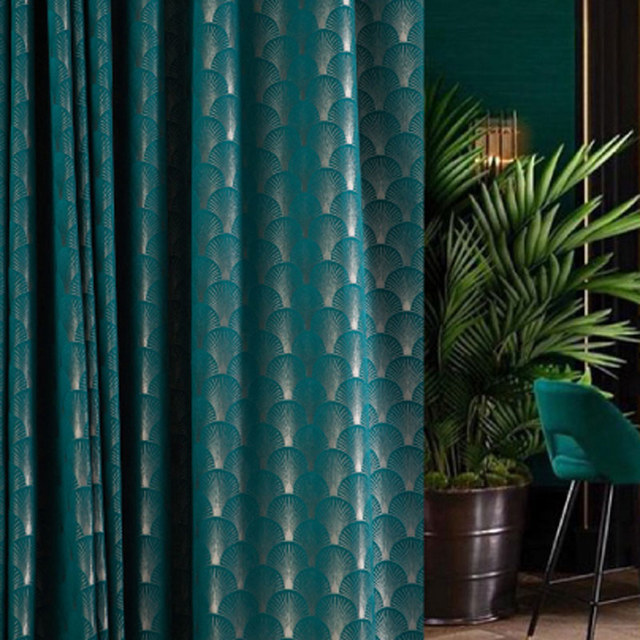 Roaring Twenties Luxury Art Deco Shell Patterned Teal and Silver
Curtains to Compliment Decor
In contrast to bold patterned accent curtains, modernist designers tend to delight in curtains that work in harmony with the chosen interior theme. By selecting certain fabrics that complement your colour scheme, your window treatments work with the rest of the décor in an effortless manner which can make the room appear more aesthetic and attractive. You can also use curtains of the same colour shade as the walls to create a vastness and evoke a sense of bliss.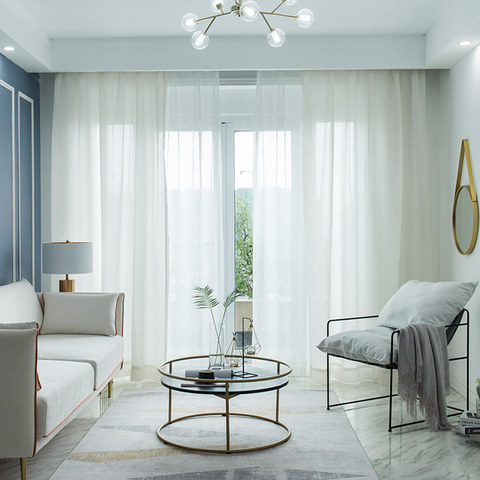 Lino Textured Cream White Sheer Curtain
Solution for Multiple Windows
If you have several windows spread across one wall, we have a solution for you. Extend a wide, continuous curtain rod across the whole wall which will allow you to hang multiple panels along it without using too many rods - which could appear too messy. You can then measure the whole wall to create one large panel, or rather measure each individual window space and divide the panels. Whether you would like them to meet in between or wish to have a gap is up to you. This method can produce a calming repetition effect as well as removing the need for multiple curtain rods on one wall. It also allows the option for a curtain wall, where one large panel takes up a whole wall either as a decorative element or from a functional perspective.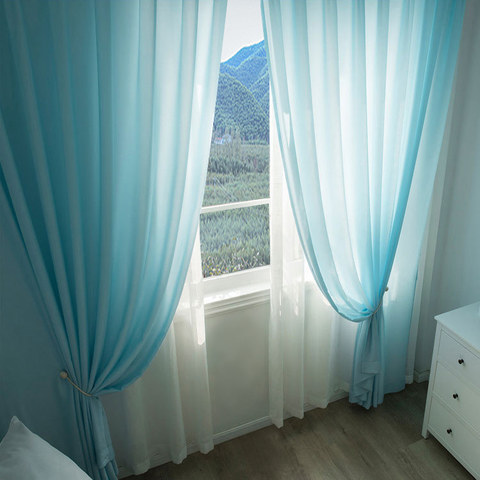 Silk Road Baby Blue Textured Chiffon Curtain
Conceal Hardware
Nowadays, aesthetics has become the main aim when creating an interior. From minimalistic design to organisation techniques, there is so much to consider when aiming for this type of décor. Try using a hidden wall mount or track to hide the hardware for a more minimalist appearance. This seemingly insignificant feature can greatly enhance an area's visual appeal and open the space. Use a track that sits within the window frame rather than on the wall surrounding to achieve a streamlined, more contemporary design which can also be accomplished using a pelmet.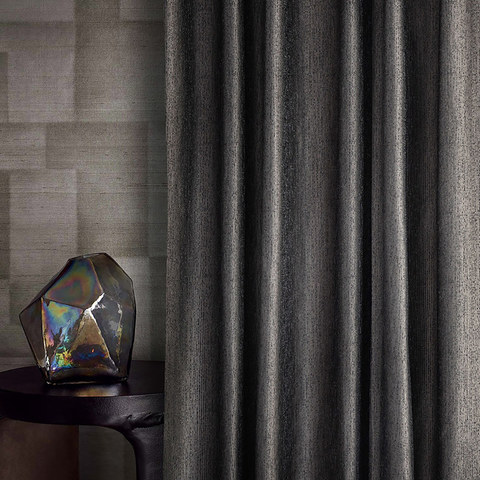 Metallic Fantasy Sparkling Shimmering Off-Black Curtain
Integrate Roman Shades
When curtains are not an option, consider the use of roman blinds. These fold away beautifully in tiers and open out completely flat, so are gorgeous and effective when a patterned fabric is used. These are ideal for a neat approach as they do not protrude too far into the room and can be created so they fit the window size exactly. Roman blinds are perfect for any room and are commonly seen in the bathroom, where curtains are a no-go.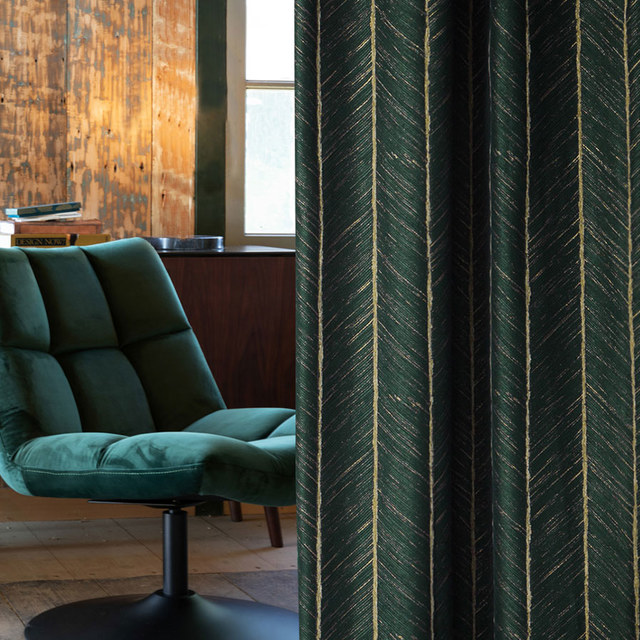 New Look Art Deco Herringbone Dark Green and Gold
Curtains as Room Divisions
Homes, such as a studio apartment, might benefit from the use of curtains to create distinct zones. Where a door can create an enclosed feel while open plan eliminates the sense of separation, the use of curtains to divide rooms and clearly set out zones is an effective idea. Use sheer fabrics where simple definition is desired, while thicker fabrics can act as a softer wall between rooms.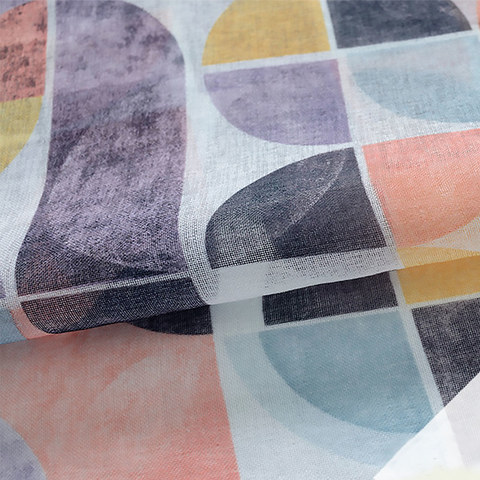 Vigour Multi-Coloured Purple Geometric Patterned Sheer Curtain
Go For Patterned Curtains
When working with a plain space, it can be as simple as adding wallpaper or patterned curtains to bring a sense of décor. When working with large-scale prints and patterns, it is a great idea to utilise this and create a feature wall. For a polished, coherent look, match the colours within your fabric of choice to the rest of the colour scheme.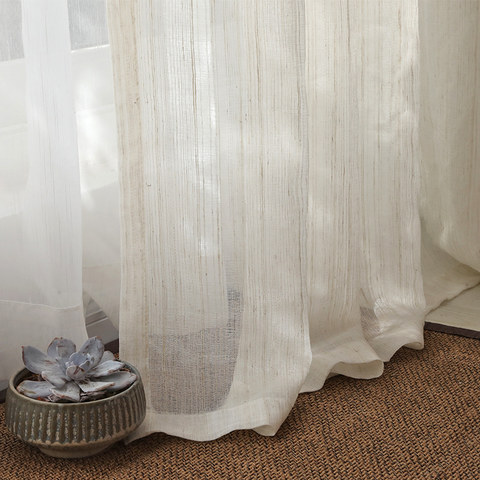 Dreamer Oatmeal Cotton Blend Sheer Curtains
Puddled Drapes
For those who desire something unique yet luxurious, we have an amazing proposition. Purchase curtains which are a few inches too long for a drape effect across the floor. This can create a sense of luxury while also suggesting a more casual approach to décor. This method works great in larger rooms to add depth and design while also draping across the vast floors and can also draw attention to your eye for detail.
Whether you decide to opt for sheer curtains, thick curtains, or any of the ideas above, visit Voila Voile to browse our vast range of unique and classic fabrics. We create made to measure curtains and can cater for your interior taste. There is something for everyone. See for yourself at www.voilavoile.com