What Makes Grey Sheer Curtains So Trendy These Days?
The era of ostentatious and garish decor is over. Nowadays we like our decor to be light and delicate. The more simple and minimalistic the design, the better - this absolutely applies to window coverings as well.
Sheer curtains are always a classic and beautiful option that fits perfectly with modern trends. There are also so many options to choose from nowadays, so it's no wonder that they're so popular with interior designers nowadays. What's even better is that they're not only beautiful, but they're also highly practical.
Grey Sheer Curtains are currently trending thanks to the way they enhance the beauty of any home without breaking the bank. Let's explore the reasons why this shade is currently so beloved.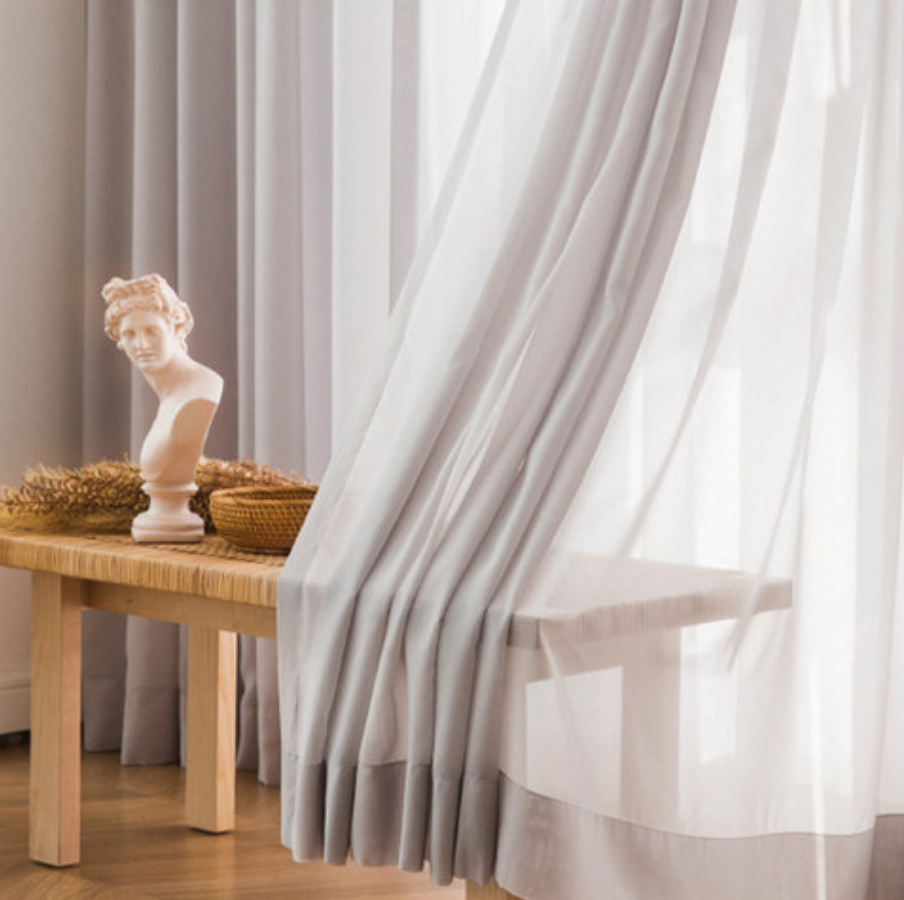 Soft Breeze Pastel Grey Chiffon Sheer Voile Curtain
Immediately brightens up any room
Who doesn't love a home that gets lots of sunlight during the day? These sheer curtains will fill your room with warmth and sunshine.
Grey Sheer Curtains are usually lighter in colour which makes them great at letting in filtered sunlight to get some Vitamin D and brighten up your home. The perfect amount of natural light will enter in, so there's enough to make your home look sunny and cheerful while protecting your furniture from UV rays.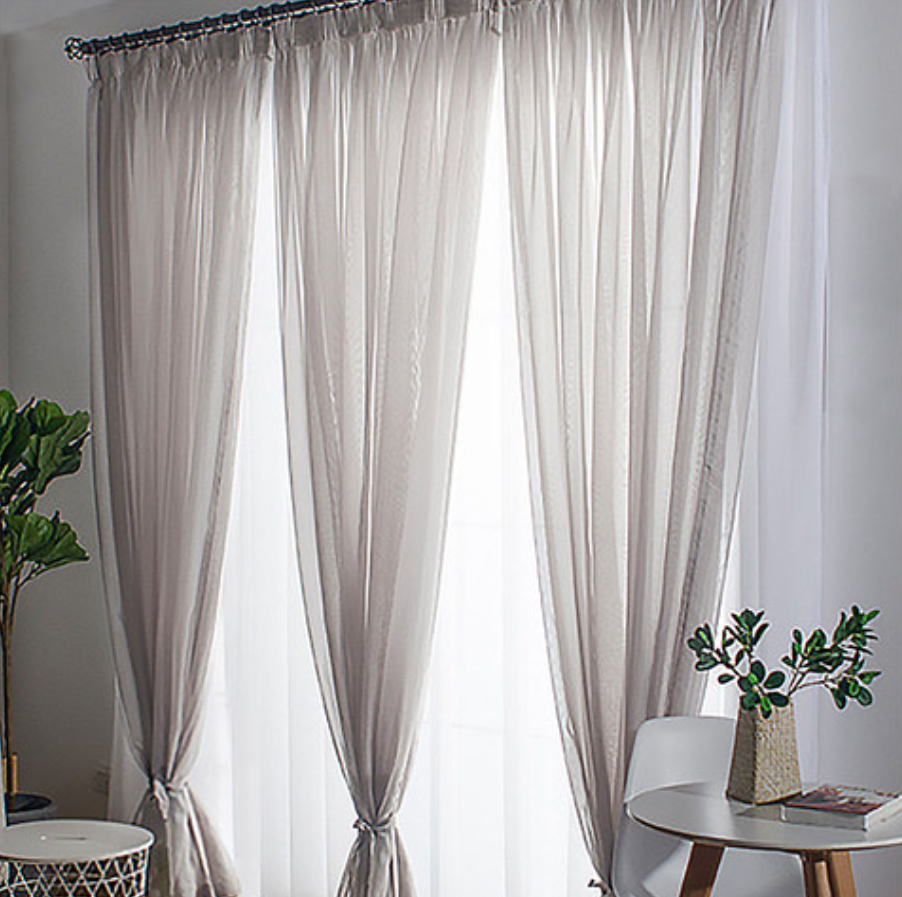 Smarties Light Grey Soft Sheer Voile Curtain
You get to enjoy the outside view
While these sheers stop people outside from looking into your home, you can still see the outside view from inside. This means you still get to enjoy the lovely scenery outside thanks to the translucency of the sheer fabric. This can enhance the ambiance of your space, give it a dreamy atmosphere, and let you take in the beautiful scenery surrounding your house.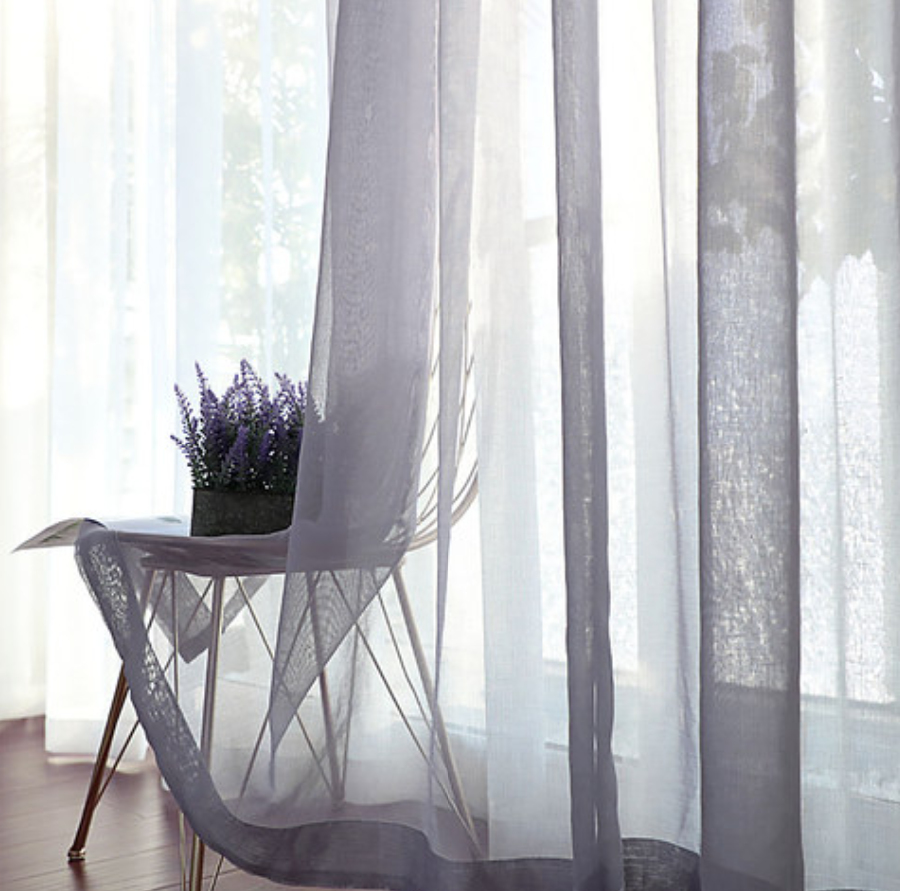 Luxe Light Grey Sheer Voile Curtain
Effortlessly adds style to your home
Searching for something to update your home with a fresh new look? Some Grey Sheer Curtains are the beautiful and sophisticated addition you need. Neutral hues like grey or gentle colours like pink fill any home with a serene and peaceful aura. Grey also matches perfectly with everything - if you have colourful bed covers, furniture or walls, some grey curtains will complement them very well. You could pair them with thicker drapes in more solid and vibrant colours. Thanks to their versatility, you can use Grey Sheer Curtains in any way you want!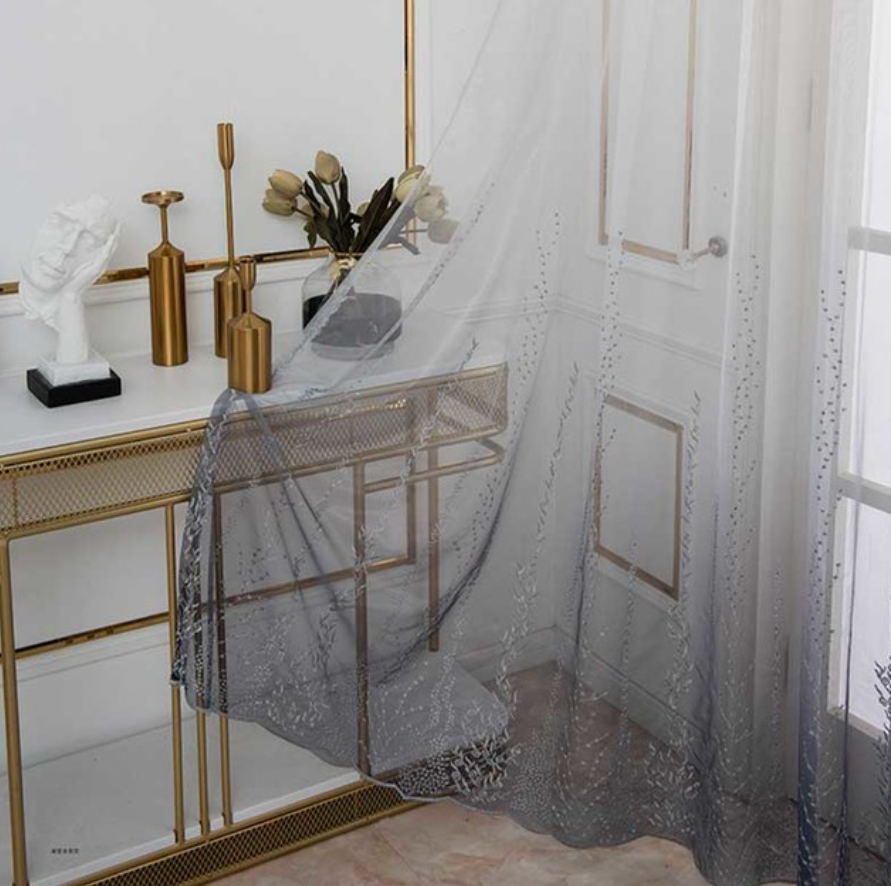 Charcoal Grey Ombre Embroidered Floral Voile Curtain
Makes your room look bigger
If you want to make your room seem a little more spacious, Grey Sheer Curtains are the way to go. If your room ceiling is too low, try hanging these curtains from the ceiling to the floor. You could opt for striped curtains, which will reinforce this effect even more. Installing your curtains so that they hang past the window glass is an excellent way of making your room look larger. Given that sheer fabric is thin and delicate, it'll provide your room with a neat and elegant look. We recommend getting sheer curtains made entirely of cotton or linen - not only do they come in a variety of colours, designs and style options, but the natural fibres will keep your home looking fresh for a long time.
For an open and modern style, some sheer drapes would be great due to the spacious look they create. Remember to consider the texture, length, mounting type, and hardware for your window dressing. Hanging up your curtains correctly is essential for getting the desired effect.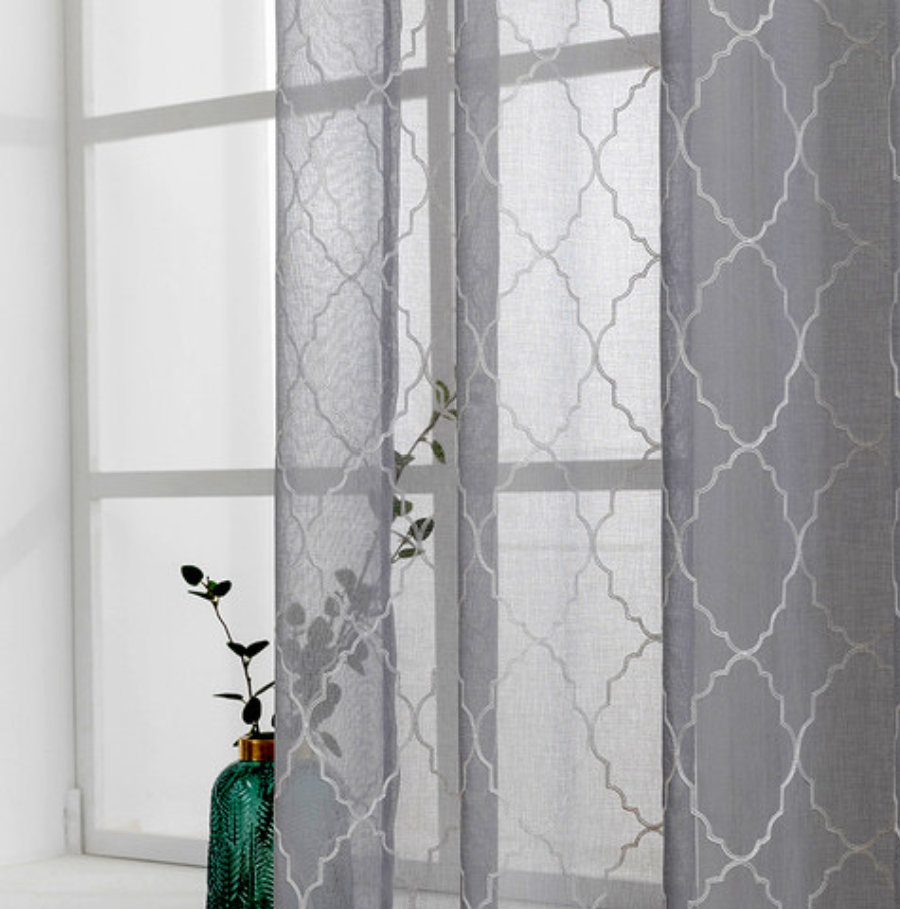 Fancy Trellis Light Grey Detailed Embroidered Sheer Curtain
Can be used in a variety of ways
Sheer Curtains in pastel grey and white shades make excellent room dividers since they use colour to divide spaces without making them appear too narrow. They function especially well in studios and lofts. They would also be great for children who share a room but might want more privacy.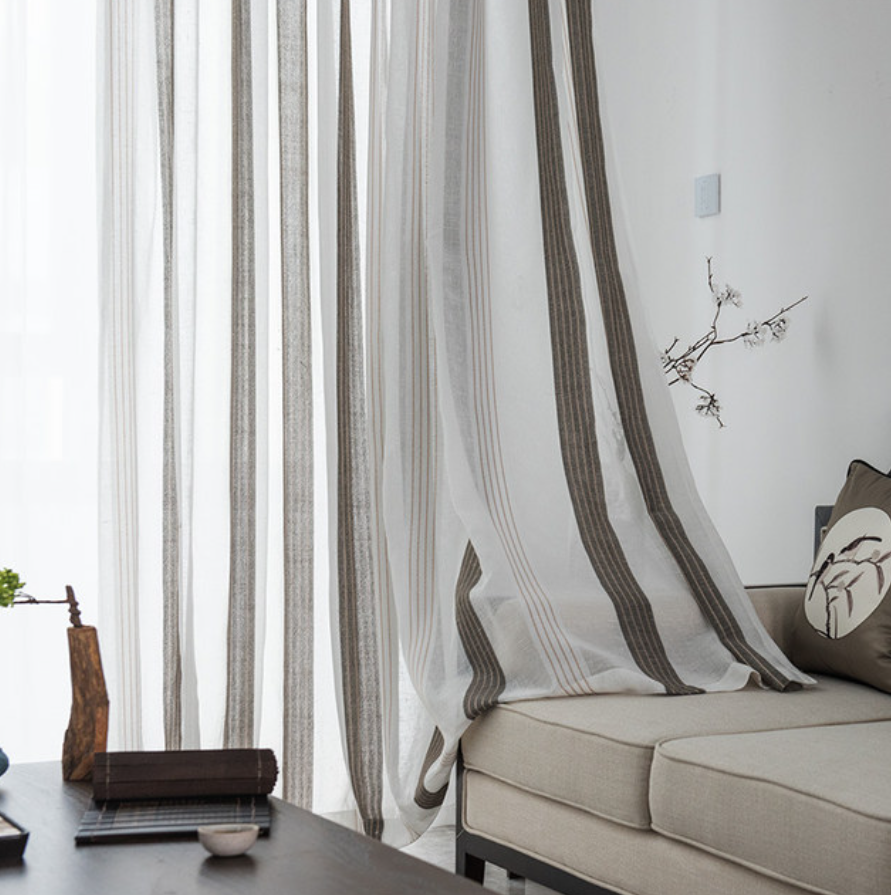 Moondance Dark Grey White Striped Semi Sheer Voile Curtains
In Conclusion
All in all, we hope you now see why Grey Sheer Curtains will be such a great choice for your home. Keep in mind that your curtains will look different depending on how you style the folds. A heading with gathers creates a large, gentle wave impression. A pleated heading creates patterned lines and folds.
In our recent article, you can find more details about selecting and using your sheer curtains in the most stylish way. Consulting a furnishing service or an interior designer can help you choose the right sheer and light fabrics for your home. We know you have it in you to make the best decisions and achieve your dream home.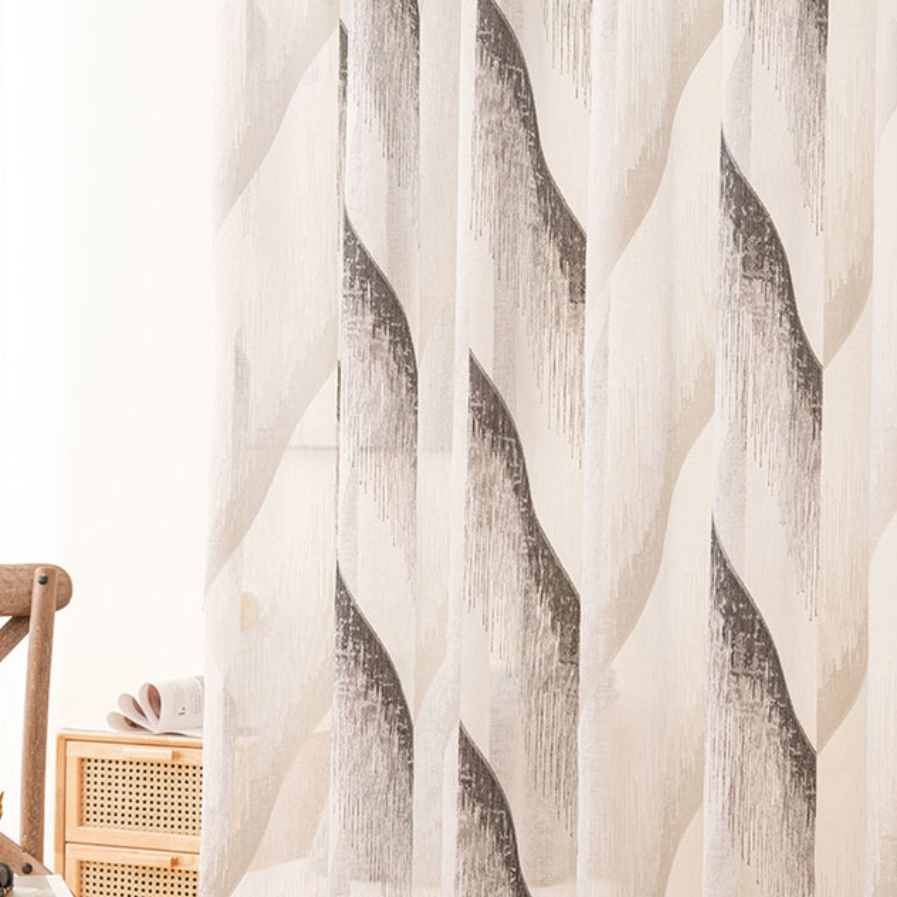 New Wave Jacquard Charcoal Gray Modern Geometric Voile Curtain