What Is the Difference between Net and Voile Curtains
It's often a tricky decision whether to opt for net curtains or voile. Lots of lovely people who pop into our shops ask us for our advice on which to choose!
1. Decorative Use or Practical Use
The first thing that we tell them is that both options are as popular as each other so it's a fairly difficult decision to make and often down to individual preference. However, if you decide what your net/voile is going to be used for, for decorative use or practical use, then the decision can be made a bit simpler!
Practical: We always recommend opting for net curtains if you want to take a practical approach as they can successfully help to improve your home's privacy and are really easy to clean.

Decorative: If you want to make a feature out of your window, then we suggest opting for voiles which are often brightly coloured with gorgeous detail and used more for show.Nets suit the interiors of both traditional and modern homes as they can be found in plain or beautiful floral designs. Nets are traditionally white or cream in colour so can easily blend into your original décor.

They're woven with a finer, but more robust fabric, which takes a lot of embellishment to create a very beautiful result. You'll find that voiles come in different colours and are more decorative than nets which tend to come in simple whites and creams.
2. Keep Privacy While letting The Sun Shine Through
Privacy was as important in the 1700s as it is now. So was class. Back then, the only way for people to know what was going on somewhere was to take a good like inside through their windows. Somewhere along the line, people realized that windows needed covers, and rags just wouldn't do. What's the answer to their dilemma? Well, it's net Curtains. Here, the complicatedly woven laces are quite different from the usual curtains because they act as mirror glasses. Nobody could ever steal a glance into your personal space while you would have been sitting right at the window, enjoying the scene outside. Net Curtains also optimized the amount of sunlight entering the rooms and blocked UV rays. Clever mechanism and breathtakingly beautiful design. It isn't any wonder that this embellishment has grown in popularity ever since.
One telling difference between the kinds of Net Curtains Fred Flintstone might have had and the kind that most people have now is that during earlier days, Net Curtains used to be made out of wool, cotton or silk. In today's world, most of the net curtains are made out of polyester. This synthetic material is something that retains the exquisite look of silk but costs much lesser. Thanks to technological advancement, you don't have to pay a fortune to enjoy the beauty. Moreover, you just can't deny the fact that you will have difficulty in finding silk or cotton curtains in these times. Net Curtains have always been in trend. Whether you live in a palatial mansion or a modest apartment, Net Curtains are sure to give your windows the looks they deserve.
3. Touch Of Elegance
If carefully selected and managed; net curtains can definitely give your room that touch of elegance. Today, while still giving your windows an English appearance, modern blueprints have been incorporating into the styling of curtains. Some like it old fashioned and some prefer deceptively lucid compositions. What can we say, curtains are versatile objects! Essentially, there are three kinds of Net Curtains - The Voile, Jardiniere and Cafe curtains.
4. The multitude of Colours and Patterns
Voile curtains can turn out to be great if you have huge windows and for that, you'll need full-length covers. These have rich patterns that are elaborately weaved. You can choose to have them embroidered but normally Voile curtains are plain and can be easily suited to your walls and carpets for this very reason. Voiles are made of polyester and they're semi-transparent. They're available in a multitude of colours and patterns.
Jardinieres can also be full-length curtains, but most of the times they have an arch at the end. This allows you to look outside but not much of what's on your side can be seen. This means you can still enjoy your privacy while allowing the morning sun to shine into your room. Well, there's no denial to the fact that Jardinieres are lovely curtains to look at its highly appreciable and offers beautiful ambience.
Cafe curtains are cheaper and they only cover the lower half of your window. They can turn out to be great for kitchens and if you use the right kind of poles, they can look stunning and can turn the ambience amazing. People often mix and match cafe curtains on the top and the bottom half of the windows so a stream of light enters the room through the middle. If you want to experiment with styles and shades, cafe curtains will match your needs perfectly.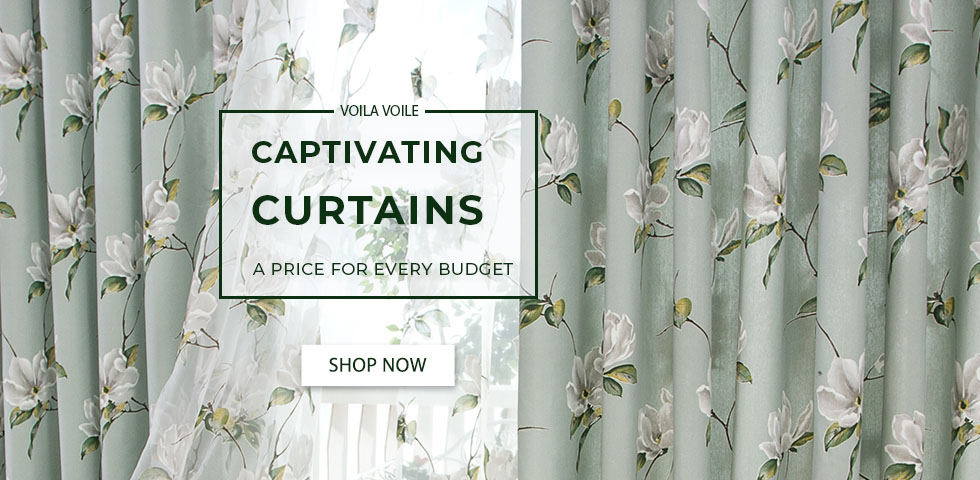 A thing of beauty is a joy forever they say and curtains are one of the most beautiful aspects of home interiors. Years and years of sure growth alone bear testimony to the fact that Net Curtains are an integral part of home decor and so it will be for years to come.
Make sure to do some research and hunt for the one that can turn out to be the best one for you.