Things To Keep In Mind While Shopping For Curtains
When you are looking to buy curtains for your home, there are some things to keep in mind that will help you make the best choice. Not all curtains will complement your decor, and some might look out of place. Finding the perfect curtains can be challenging, whether you have a big space or a smaller space. Remember that curtains don't just provide privacy and block out sunlight - this accessory has the power to transform a drab and dreary home into a cheerful and inviting one. Read through this article and learn about things to consider when buying curtains for your home.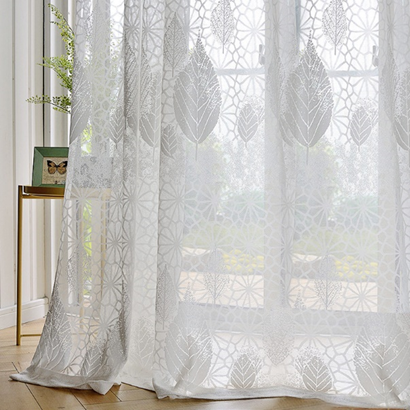 Autumn Days White Geometric Lines And Leaf Design Voile Net Curtain
1) Know What You Want Your Curtains for
Though it may sound obvious, this is something that you should keep in mind while looking for curtains. Not all curtains are meant for all purposes - for example, if you want a cosy and private atmosphere while you eat dinner, some thicker drapes suited for privacy might be the best option. However, there are situations where you might want curtains intended for other purposes. An example of this is buying curtains to block sunlight from coming into your kitchen. You will also need to know about the purpose of the curtains that you want to buy. White sheer curtains, for example, excel at providing you with the privacy you need.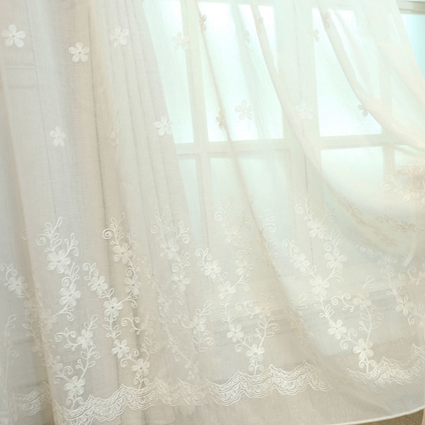 Touch Of Grace Embroidered White Flower Voile Curtain
2) Match Your Curtains With the Theme of Your Home
An excellent way to match your curtains with the theme of your home is by understanding the colour palette. If your home is painted in warm colours, you can try to find some warm colored curtains to match. In the same way, you can also match your curtains with the decor of your home. For example, if your home has a vintage theme, you can buy curtains that are in a vintage style. Alternatively, if you have a minimalist theme in your home, you can go for a curtain that is in a more modern style. There are many themes to choose from, and you could even create your theme. There's no limit to your creativity!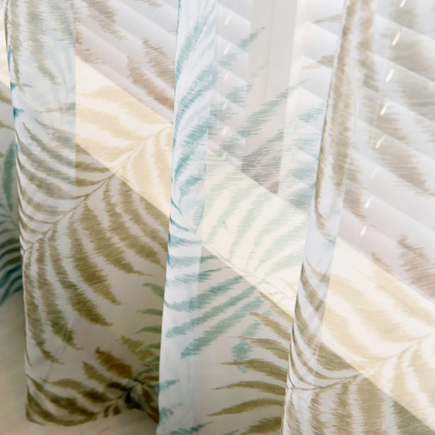 Palm Tree Leaves Blue Sheer Voile Curtain
3) Material Matters
How do you choose the best curtain fabric for your room when there are so many options? Different fabrics are best suited for different rooms. White sheer curtains would work great in a bedroom but not in a kitchen, as it is more flammable than other types of curtains. Curtains made from linen might be a better choice for kitchens instead.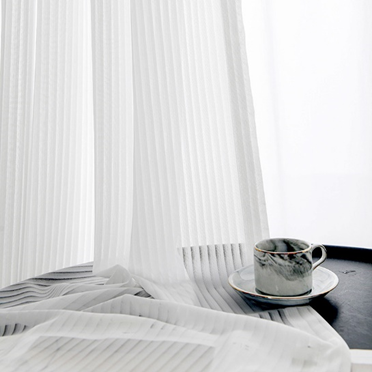 Sun Rays Bold Striped Scratch Resistant Chiffon Sheer Curtain
Wrapping Up
Understanding the purpose of curtains, the possible themes you can go for and the best fabric for your room is essential for picking the perfect curtains for your home. In addition to that, remember to measure your windows so your curtains will fit just the way you want. Once you have all of these factors considered, you will be able to find your dream curtains. There are many different brands and types of curtains that you can choose from, such as the highly popular white sheer curtains. Why not have a look online so you can browse through a wide range of options?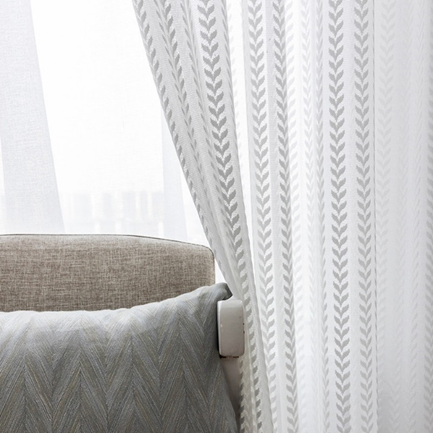 Chevron Stripe Jacquard White Sheer Voile Curtain