Know Interesting Facts and Benefits of Hanging Sheer Curtains in Your House
Do you want to know about beautiful sheer curtains?
Sheers are lightweight fabrics that cover your windows, doors, and beds. Homeowners who love being minimalistic prefer net curtains for sheer elegance and simplicity. Sheer curtains give privacy without blocking natural light in your house.
You may wonder how to select sheers, what are different types of sheer curtains or how to hang them in your house. Knowing the basic information is a must before buying sheers for your home, and that's why we've come up with this blog.
Sheers Work Well With Layering
Sheers, in combination with blackout curtains, are a fantastic layered solution. You can use sheers with dark colour curtains to gain control over the light and privacy in the space. For instance, you can stretch out the blackout curtains when you need privacy in the room. Whereas during the daytime, when you need sunlight in the room, you can let it enter through sheers.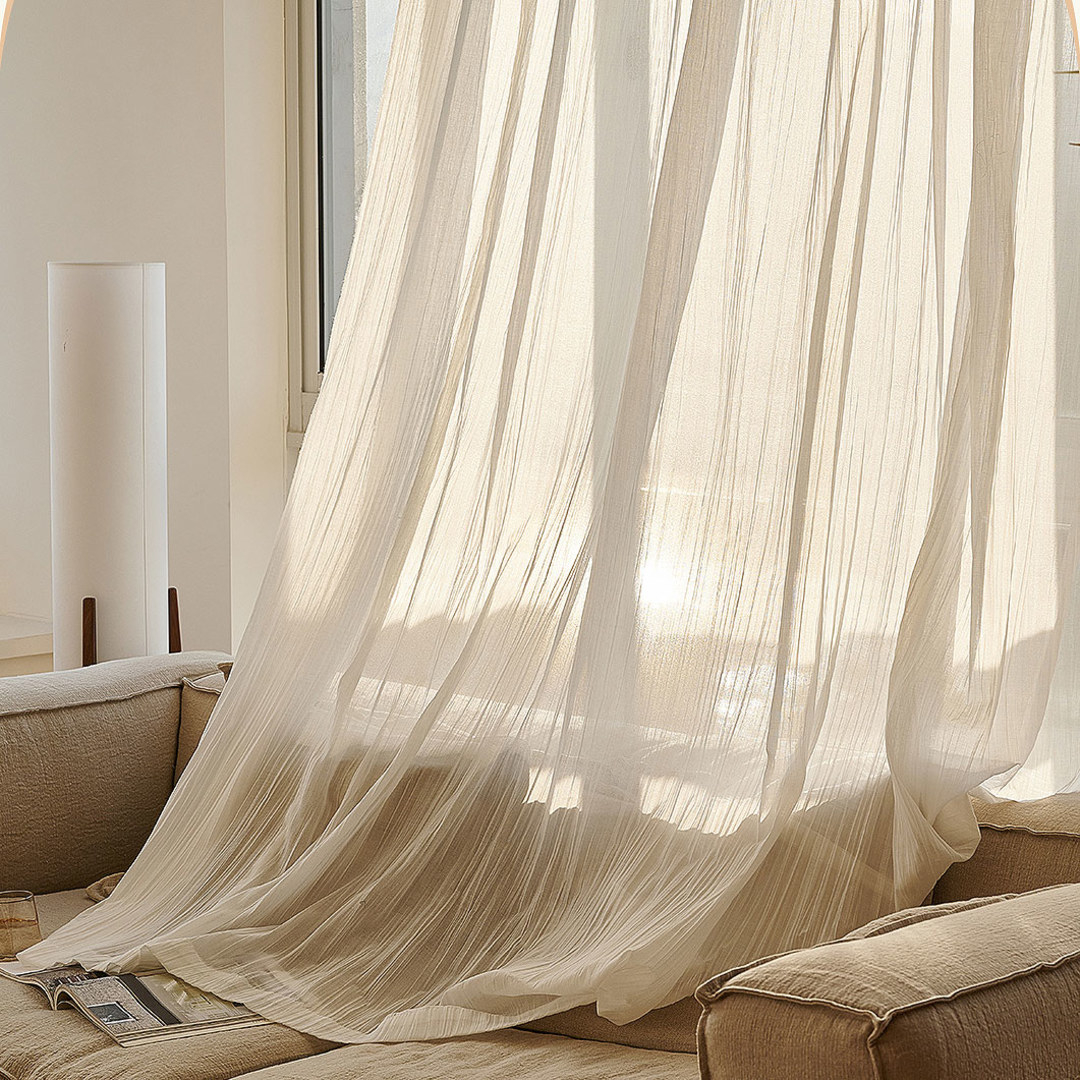 Cotton Crush Cream Ivory Crushed Semi Sheer
Infuse Softness and Movement
Sheers are widely preferred to enhance the ambience of a room by softening the entry of light and framing the windows. If you want to create an impression of a high ceiling in your room, you can add sheer curtains. Whenever the wind blows, their movement is stylistic, which looks so soothing.
Tickmark Daytime Privacy
When you need daytime privacy, sheers become your best bet. They provide you with enough privacy without blocking natural light. That means while you undraw sheer curtains, you get your privacy without depriving your space of light.
Diffuse The Sunlight
Sheers are a perfect sunlight diffuser that you can install in your house. Since they are made of light and transparent material, they act as fantastic light filters. This means it allows the sunlight to pass through the window, but their fabric acts as a diffuser that softens the light entering your space. It benefits you in many ways:
● Protect your home's furniture and flooring by acting as a shield against harsh sun rays.
● Prevent outsiders from viewing inside your house without blocking natural light.
● Reduces your utility bill as they support enough natural light in space
4 Key Advantages of Using Sheer Curtains
Choosing sheer drapes in your house gives you several advantages. Here are a few of them -
1. Filter Light
Sheers are made of lightweight fabric that filters the natural light coming through the window. With sheers, you get good UV protection while enjoying sunlight inside.
2. Protect Colour
Direct sunlight fades wall colour pretty quickly. Letting it pass through sheer reduces its effect and supports colour protection.
3. Easy on Pocket
Sheers are a cost-effective solution for decorating your house. You can use them to beautify your bedroom by adding them to canopy beds.
4. Versatile Use
You can use it to dress windows, canopy beds, or doors; their use is versatile.
In The End
While you got your house designed by the experts, complement it by hanging sheer curtains everywhere. Sheers look fantastic and enhance the ambience of the house. Employing your creativity, you can create a great look for your house with sheer curtains.