Are Lace Curtains Out of Style?
What comes to mind when you think of lace curtains? Long white old-fashioned curtains with the same lace design? Curtains you might see in your grandmother's house? Well, think again. Lace curtains are back in style, only now they are available in a range of styles and colors. They can be a focal point in any room, delivering elegance and becoming a quintessential curtain choice of the ages.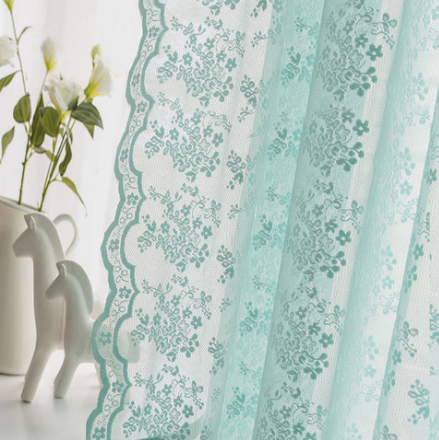 Lace Curtain Posey Pastel Green Net Curtains>>
Lace curtains, or now more commonly known as "sheers" can make any house feel like a home. With a wide selection of patterns and designs to choose from, you can find the ideal design for you. By creating a modernized yet authentic feel, lace curtains can bring character to your home. The range of lace curtains includes luxurious intricate lace designs to simple pieces. The detail in the lacework can make all the difference; fabric can be covered with floral and lace patterns, or it can be left subtle and simple.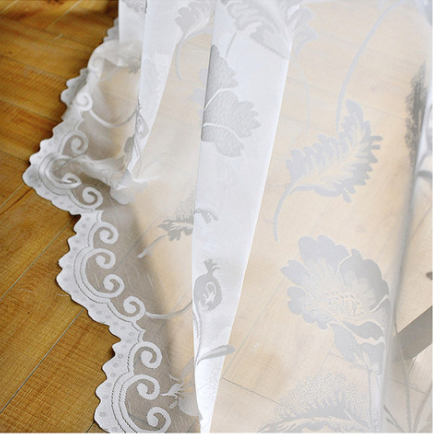 Net Curtain Eden Flower Jacquard White Voile Curtains>>

How to Use Lace Curtains in your Home:
The beauty of lace is that they can be used anywhere around your home, from the dining room to the bedroom. They can be used as a center piece in a simple room to create a decorative element while still allowing natural light in. Alternatively, lace curtains can be used underneath fuller heavier curtains. This allows you to have the heavier curtains pulled back whilst the lace curtains underneath act as a light coverage while also providing you with privacy.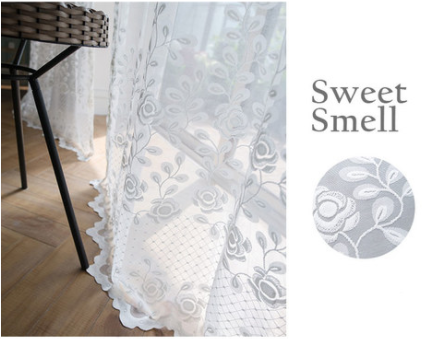 Net Curtain Sweet Smell White Roses Premium Lace Voile Curtain>>
With a range of lace designs available, they can cater to any desire and be well suited to any home interior décor. Although lace curtains are available in different colours, you will usually find that the majority are in shades of white, ivory, and cream.
At Voila Voile, you can find various styles of lace made with a range of materials such as cotton, silk, rayon, linen, and polyester. We can also guide you through the various styles you can choose.
Latest and Elegant Styles of Lace Curtains for your Home:
French Lace Curtains:
If you are looking for a delicate, gorgeous way to dress your windows, consider French lace. These are a unique choice and are available in different styles and sizes. French lace makes the room feel elegant and dainty as well as having a romantic touch.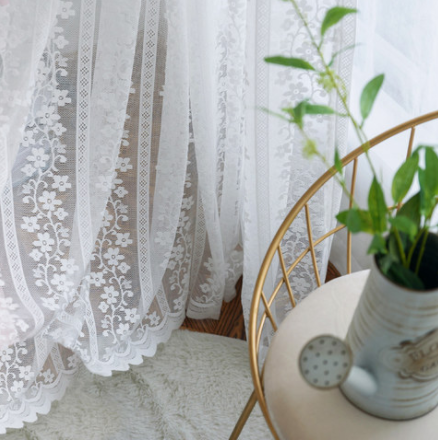 Delicate Flowers White Sheer Voile Curtain with Column Detail and a Scalloped Edge>>
If you can find the perfect fabric for your style and décor, we can create a fabulous window treatment. French lace curtains are effective in a bedroom, parlour, study, kitchen, or dining room. Wherever they sit, this style of lace curtains brings grace and beauty.
Lace Curtains with a Valance:
A valance is a perfect way to add a statement to your lace curtains. This is a decorative drapery attached to the top of your windows or doors to add an extra luxurious feel. It can have straight or scalloped edges depending on your personal preference. The valance finishes off the curtains, adding a grand look or if used alone a valance can dress a window subtly and elegantly. The valance adds dimension to the lace curtains and is very stylish.
Lace Curtain Panel:
White lace curtain panels are the best choice for any home rendering a sophisticated design. These panels are readymade lace curtains that you can add to your home. They are hemmed at the bottom as per the length of your window or door.
Trousseau Lace Curtains:
Made with poly, satin, and intricate macramé lace, trousseau lace curtains are gorgeous and an elegant way to dress your windows. These lace curtains are available in various styles and designs and curtains with laced edges add an extra touch of detail.
Balloon Lace Curtains:
These are popular and unique as they can either tie-up to create the balloon effect as well as having adjustable clips at the back to create your very own custom look. Balloon lace curtains are made of either polyester or jacquard lace and include scalloped bottom edges.
Victorian Lace Curtains:
Victorian lace has a lot of character and style. The details in these curtains have a great depth which can make any simple room look intricate. The black lace curtains are stunning and unique.
These are a few styles of lace curtains to give your home elegance and style. The different styles allow a choice which means any interior can be complemented perfectly by lace. So, lace curtains are in style and available in a range of modernized patterns and designs, if you are looking for curtains and think lace might be for you, then visit www.voilavoile.com today and shop for quality made to measure lace curtains.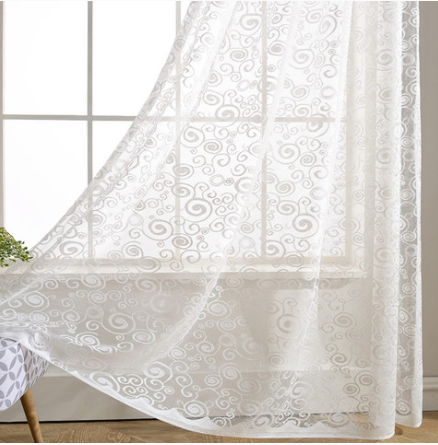 Net Curtain Starry Night White Lace Voile Curtain>>